Rich DeVos was a champion for his hometown and for America
Co-founding Amway in 1959 — around the same time Fidel Castro was establishing a communist regime in Cuba and Nikita Khrushchev was threatening to bury the United States — Rich felt it was his duty to stand up for freedom, free enterprise and the American Way.
Rich was convinced that the positive atmosphere in his hometown, church and high school helped launch his career as a successful entrepreneur. He credited American freedom and free enterprise with affording him the opportunity to nurture a fledgling business into a global corporation.
With that conviction and his belief in sharing his success, Rich DeVos, through personal and corporate giving, changed the skyline of Grand Rapids, Michigan, and played a leading role in promoting American freedoms at home and exporting free enterprise worldwide.

A champion of America
Rich came out of the gate fast as a champion of America. Asked to speak to a small group of accountants shortly after the start of Amway, he said he decided not to follow the crowd of critics but instead paint the true portrait of a positive America. His message resonated and propelled his little talk into "Selling America," a speech he eventually delivered to thousands nationwide, and which was later recorded and won an award from the Freedoms Foundation.

Selling America
"Selling America," first delivered by Rich in the 1960s, was an unabashed tribute to the American free enterprise system. Rich gave many versions of this talk during the '60s and '70s, but each extolled how all Americans have a responsibility to encourage each other, to seize opportunity and to "sell America."
Listen to Speech
Rich would go on to serve his country in many ways, including being appointed by President Ronald Reagan to the Presidential Commission on AIDS and serving as the Republican National Committee Finance Chairman. Rich also helped launch and served as founding chairman of the National Organization on Disability, supporting the organization for a number of years.

Hometown hero
With a desire to preserve America's heritage for young people, he and his wife, Helen, were key contributors to the National Constitution Center in Philadelphia and the People's President Gallery at Mount Vernon.
In Grand Rapids, Rich shared not only his treasure but also his time and talent. He led the fundraising campaign that helped establish the downtown campus of Grand Valley State University. He was chairman of the board of Butterworth Hospital during the merger of Blodgett and Butterworth hospitals into a nationally recognized Spectrum Health. He lent his name and leadership to major fundraising projects, was a major patron of the Grand Rapids Symphony and the arts, and revitalized downtown Grand Rapids with buildings including the DeVos Place Convention Center, the Cook-DeVos Center for Health Services, the Helen DeVos Children's Hospital, DeVos Performance Hall, and the Amway Grand Plaza and JW Marriott hotels.
1/10
2/10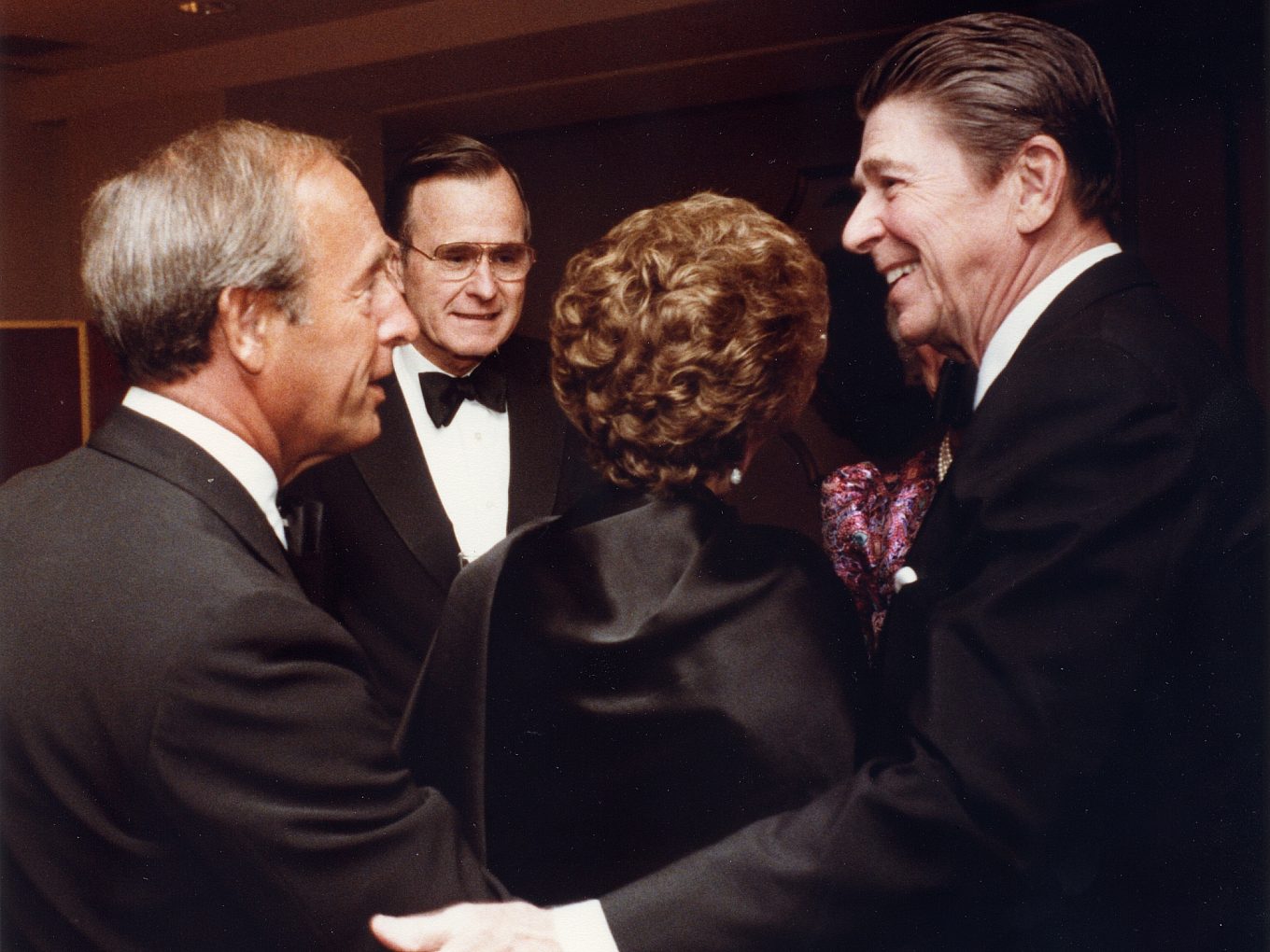 3/10
4/10
5/10
6/10
7/10
8/10
9/10
10/10
Development in Grand Rapids has been remarkable, considering that the city's downtown had deteriorated in the 1970s when Rich was asked to chair the New Grand Rapids Committee. One of the committee's first structures was a performance hall, which members wanted to name for DeVos in appreciation for his leadership. He balked but was convinced when told how his name on the building would inspire other business leaders in the future to also give back to their community. The philosophy worked.

Decades later, at the dedication of DeVos Place, Rich spoke with pride about how people worked together to create a positive atmosphere and helped lead amazing progress in Grand Rapids. As he wrote in his 2008 book, Ten Powerful Phrases for Positive People: "We need people who will stand up and get the job done. Leaders have the power to be examples for the rest of us to follow."
'Celebrate'
In typical Rich DeVos fashion, his need for a heart transplant did not slow him down but accelerated his heart for community. He became chairman of the United Network of Organ Sharing National Speakers Bureau and a leading advocate for organ donations. His life-saving transplant in 1997 was the basis for his book Hope from My Heart and many speeches, as he extolled the values of a positive lifestyle that enriches lives. Speaking to a community reception upon his release from the hospital, Rich told of a dream he had shortly after the surgery in which he was handed a card with a single word: "Celebrate."
And celebrate he did. In the next 20+ years of his life, he continued to promote free enterprise around the world, he encouraged others through his speeches and books, supported the causes he believed in and he relished the gift of time he had with his family.