The Honorable Richard M. DeVos
Before he launched a global business, before he inspired generations of entrepreneurs, before he became known for his generous spirit, Rich DeVos developed virtues and values that would guide his life – devotion to family and friends, unfailing faith, love of country, never-say-die persistence, respect for the dignity of each person and an unwavering optimism.
1926
Rich is born on March 4th, 1926
Richard Marvin DeVos is born March 4, 1926, into a proud, hardworking Dutch-American, Christian household and close community in Grand Rapids, Michigan. Growing up during the Great Depression, he credited his lifetime of success and happiness to the presence of a strong, caring, faith-based, values-oriented family. "I was blessed to grow up in a positive atmosphere," he said.
1930s
Rich makes his first sale
Rich's entrepreneurial flame is first ignited by his grandfather who sold produce door-to-door from the back of his truck. A leftover bag of onions from that route gives Rich the opportunity for his first sale. He goes to houses in his Grand Rapids neighborhood selling those onions one or two at a time until they are all gone. "I earned just a few pennies, but that memorable achievement was a definitive moment in who I became as a man," Rich wrote in Simply Rich. "It took salesmanship and persistence, but I loved it."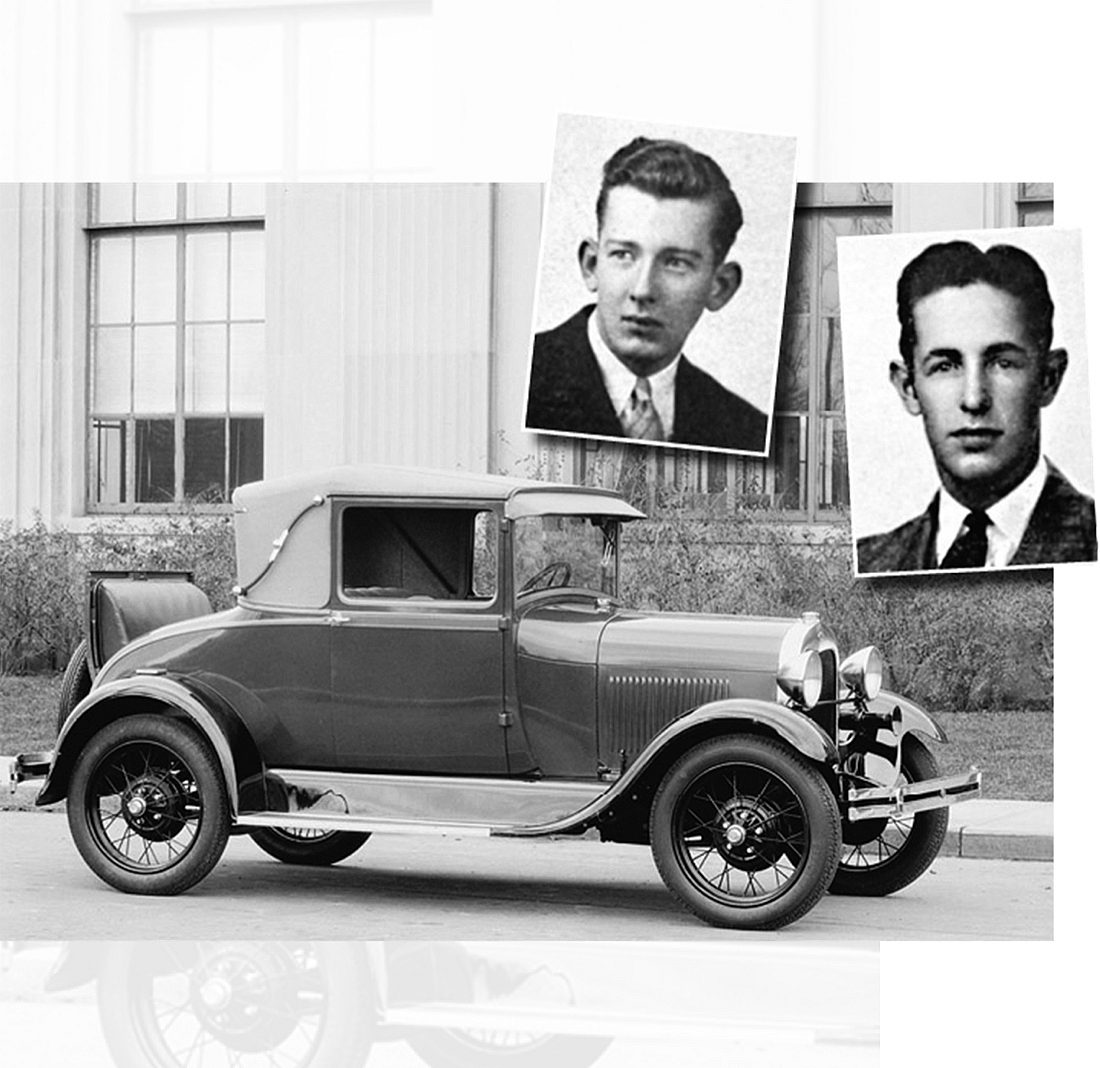 1940s
Rich and Jay form their first partnership
After riding a street car, a bike or walking to get to high school each day, Rich notices Jay Van Andel and his Model A Ford. The two strike a deal: For a quarter a week, Jay would give Rich a ride to school. Jay, two years older than Rich, turns the car over to him for safekeeping when he graduates and joins the military. "We wrote letters all the time about what we were going to do, about what life would be like and about where we were going to go. We were going to get in business together, that much we knew," Rich said.
1944
Rich graduates from high school
Rich graduates from Grand Rapids Christian High School as class president. A yearbook message from a teacher proves to be a turning point for Rich, who was admittedly not the best student academically. Dr. Leonard Greenway was a Bible teacher at the school. "He writes down there: 'To a clean cut young man with talents for leadership in God's kingdom.' All I heard was that I wasn't college material, but Dr. Greenway said I have leadership ability." Those words inspired Rich to imagine new possibilities.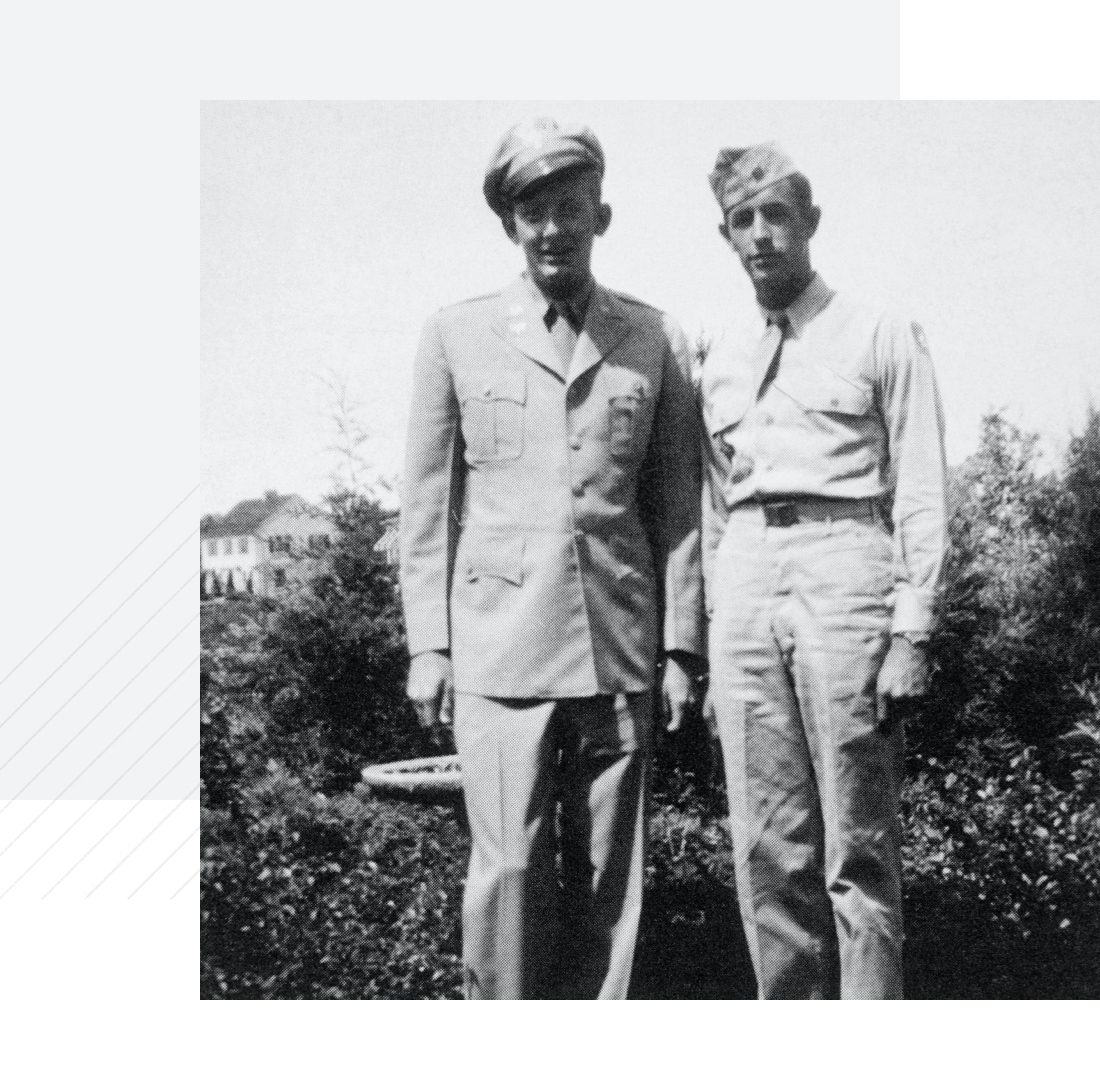 1944
Rich joins US Army Air Corps
Rich enlists in the U.S. Air Force Cadet Program shortly before high school graduation. After he completes his training, he goes on to serve as a U.S. Army Air Corps flight line mechanic on the Pacific island of Tinian during World War II.
1945
Rich and Jay open their first business
Rich invests the entire $700 in savings from his military pay to purchase a Piper Cub airplane with Jay. Still in their early 20s, they open Wolverine Air Service, a flight school near their hometown of Grand Rapids. Neither knows how to fly, but they hire pilots as trainers while they turn their talents to selling lessons to students using their sales pitch: "If you can drive a car, you can fly a plane."
1948
Rich and Jay embark on a Caribbean adventure
Even though neither knows how to sail, Rich and Jay decide to buy a boat and sail to the Caribbean. After some initial training, they launch from the eastern coast of the U.S. on their schooner, Elizabeth. The boat, which had sat too long in dry dock, sinks off the north coast of Cuba en route to Haiti in March 1949. The crew from the ocean liner Addabelle Lykes rescues the pair and takes them to San Juan, Puerto Rico. Not wanting to cut their adventure short, they spend the next five months traveling through South America and the Caribbean.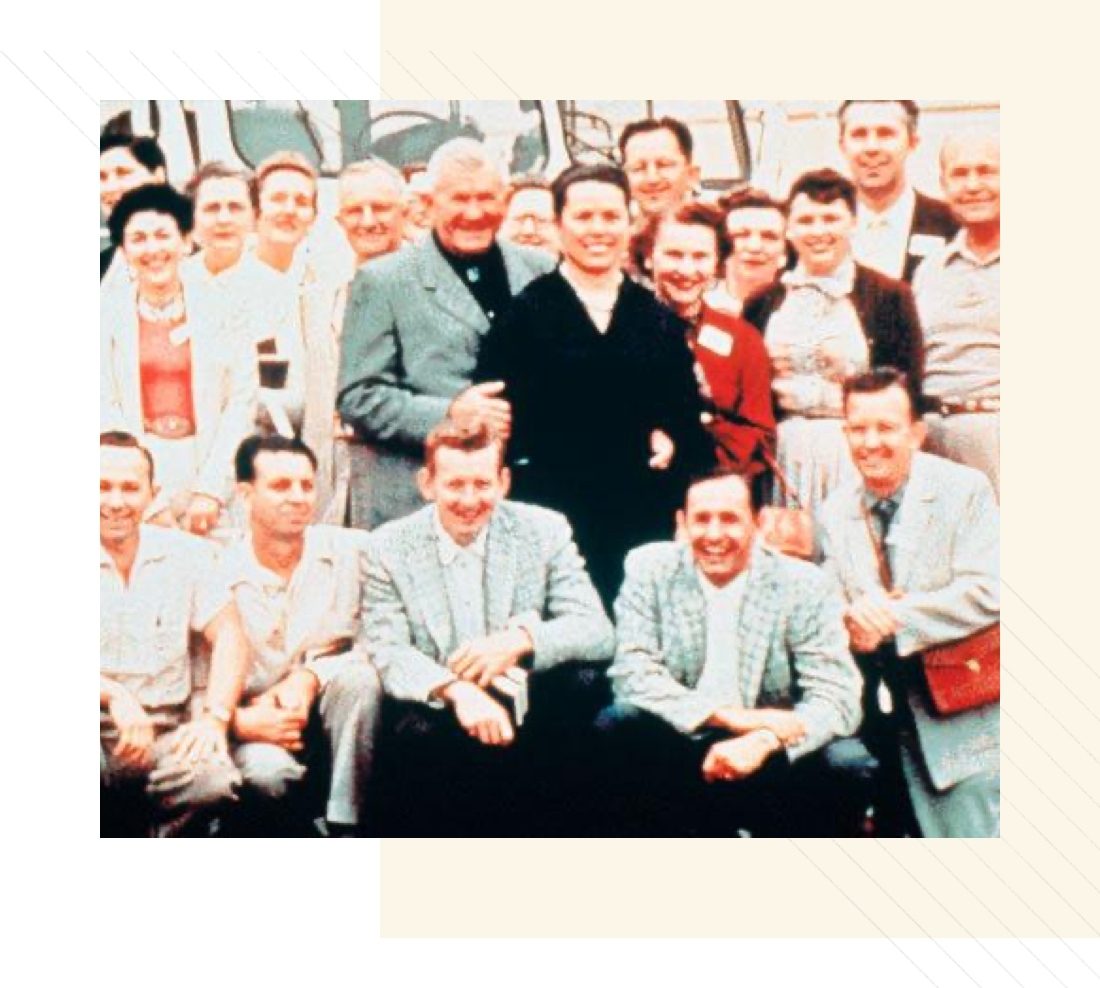 1949
Rich and Jay become independent distributors for Nutrilite
Rich and Jay form the JaRi Corporation and begin distributing products on a direct sales basis as independent distributors for Nutrilite. They go on to be among the most successful of Nutrilite distributors, appearing on the cover of Specialty Salesman magazine in 1958 as top Nutrilite representatives. "That was the beginning of what you now know as the whole world of Amway today," Rich said.
1953
Rich and Helen marry
Rich marries Helen J. Wesep on February 7, 1953. They meet when Helen and a friend are walking home from school and Rich offers them a ride. After dropping Helen off, Rich tells her friend he thinks Helen is "kind of cute" and asks for her phone number. The couple were married for more than 60 years.
1959
Rich and Jay found Amway
At the age of 33, Rich starts Amway with Jay in 1959, working out of the basements of their homes. They build their success on their desire to make other people successful, focusing on products that are used by everyone and don't require a great deal of complexity to sell. In doing so, they put Amway, as Rich used to say, "within reach of everybody, and that's what makes it exciting."
1964
"Selling America" album released
Rich first delivers his famous speech "Selling America" in the early 1960s. It's an unabashed tribute to the American free enterprise system. Rich gives many versions of this talk during the '60s and '70s, but each extolls how all Americans have a responsibility to encourage each other, to seize opportunity and to "sell America." The speech wins several awards, including the Alexander Hamilton Award for Economic Education from the Freedoms Foundation.
1970s
Rich leads the New Grand Rapids Committee
The New Grand Rapids Committee is formed to help create a shared vision for a revitalized downtown. As chairman, Rich is instrumental in that revitalization, which will eventually include DeVos Performance Hall and the Amway Grand Plaza Hotel.
1971
Rich and Jay break ground on new Amway headquarters
Rich and Jay believed in the power of capitalism and free enterprise — so much so that they name their new headquarters the Center of Free Enterprise. They break ground in 1971, laying the cornerstone at a ceremony attended by former President Gerald Ford, who was a U.S. congressman at the time. The building sits on the same site as Amway's first office, which was a former gas station. More than 4,000 Amway Independent Business Owners, employees and community members gather to celebrate its dedication in 1973.
1979
Rich enters the Direct Selling Hall of Fame
The Direct Selling Hall of Fame is the industry's highest honor, recognizing the contributions of individuals who have been the most influential to the success of the direct selling profession. Rich brings that honor home to Amway in 1979. His sons Dick and Doug, who both take turns at the helm of Amway, share in that honor many years later when their father presents them with their own membership to the Direct Selling Hall of Fame.
1981
Amway Grand Plaza Hotel opens
In an effort to help revitalize downtown Grand Rapids and have accommodations for the many Amway distributors who come to visit, Rich and Jay purchase the landmark Pantlind Hotel in 1978, restoring it to its former glory and adding a 29-story tower. It reopens in 1981 as the Amway Grand Plaza Hotel with festivities attended by former President Gerald Ford. The Gerald R. Ford Presidential Museum opens the same year, across the river from the hotel.
1987
Reagan appoints Rich to Presidential Commission on AIDS
President Ronald Reagan appoints Rich to the Presidential Commission on AIDS. "That was probably one of the most difficult years of my life," DeVos said in a 1993 interview. "It was the first time I began to not sleep at night. It wasn't so much the criticism. It was the enormity of the problem and the people who were suffering with it. I think it raised my sensitivity. I became far less critical."
1991
Rich becomes owner of the Orlando Magic
Owning the Orlando Magic is an opportunity for Rich to tap his talents to inspire and mentor young athletes and serve his adopted community of Central Florida as he does his hometown of Grand Rapids. At the time of the purchase, Rich describes his family as "caretakers" of the franchise. The real owners, he said, are the fans and the Orlando community. It is also an opportunity for the DeVos family to work and play together.
1993
Rich retires from Amway
Following health problems the previous year, Rich retires from Amway and publishes his second book. Compassionate Capitalism is a treatise on how the wise use of financial resources can help others help themselves while also showing how the spirit of capitalism and moral values inextricably merge. His oldest son, Dick, succeeds Rich as president of Amway and leads the company until 2002. Doug DeVos then serves as president until 2018.
1997
Rich receives heart transplant
Rich suffers from heart disease for years, with his heart working at 10-15% of its capacity. But, because of his age, no U.S. surgeons will take his case. A doctor in the United Kingdom finally agrees. At their first meeting, the doctor asks Rich his reasons for wanting to keep living. Rich talks about his wife, his children and his grandchildren, whom he wants to see grow up. "I want to do what I can to help them flourish." After being put on the waiting list, their fervent prayers are finally answered and he has a successful surgery. At a community reception upon his release from the hospital, Rich gives thanks to God and relates the dream he had shortly after the operation in which he was handed a card with a single word: "Celebrate."
1997
Rich helps create Spectrum Health
As chairman of the board of Butterworth Hospital, Rich is one of the architects of the merger between Butterworth and Blodgett Hospital, which creates Spectrum Health. He encourages people to see what they can accomplish working together instead of competing and guides the process through negotiations and legal proceedings with the Federal Trade Commission. Spectrum is now the county's largest employer and a nationally recognized health system that includes the Helen DeVos Children's Hospital and the Richard DeVos Heart & Lung Transplant Program.
2000
The Richard M. DeVos Center opens at GVSU's Grand Rapids campus
Serving as the president of Grand Valley's Foundation Board for 24 years, Rich's vision for expansion in Grand Rapids was focused on benefiting students and fueling downtown development to make a better West Michigan. He joins many others to create the Land Barons Club, a group of philanthropists who played an instrumental role securing land and funding for the school's Grand Design 2000 Campaign. Rich serves as an honorary chairman of the campaign, and the university recognizes his service and generosity with the naming of the Richard M. DeVos Center. His and Helen's support of the GVSU community continued with the establishment and expansion of a downtown health campus as well as the construction of the Cook-DeVos Center for Health Sciences, just down the street from Spectrum's downtown campus.
2002
Rich becomes an advocate for organ donation
Rich becomes chairman of the national speakers bureau of the United Network for Organ Sharing, promoting the need for increased organ donations. The following year he testifies in the U.S. Congress in support of a plan that offers financial incentives to people who agree to donate organs. His foundation also provides significant leadership gifts for expansion of the Spectrum Health Richard DeVos Heart & Lung Transplant Program in Grand Rapids.
2003
DeVos Place convention center opens
Continuing his commitment to a healthy and vibrant city, DeVos Place convention center opens in downtown Grand Rapids through a public-private partnership spurred by a lead gift of $20 million from Rich and Helen DeVos.
2008
Rich publishes 'Ten Powerful Phrases for Positive People'
Rich understands that motivation and inspiration are key to unleashing potential in others. After years of public speaking, he gathers his wisdom and boils it down to 10 phrases to share in book form. He writes about the power of simple statements like "I believe in you," "I'm sorry," "I trust you," and "You can do it." Ten Powerful Phrases for Positive People is one of five books Rich authors, including Hope from My Heart: Ten Lessons for Life in 2000 and his final book, Simply Rich, in 2014.
2017
Helen DeVos passes away
Helen DeVos passes away on October 18, 2017 at age 90. In her final moments, Rich takes her hand and bows his head, asking God to take her home. He prays her into heaven.
2018
Rich DeVos passes away
At age 92, Rich DeVos passes away September 6, 2018, at his home, surrounded by family. He spread positivity everywhere he went and encouraged everyone he met. He was a visionary leader, builder, life enricher, motivator and a champion for people from all walks of life. God blessed his and Helen's lives beyond anything they could ever expect or deserve, and for that they were incredibly grateful.
A Profound Legacy
Soon after Rich passed away, people began sharing their wonderful memories and heartfelt tributes. They included statements from former presidents, governors and business leaders and appeared in local, national and international news stories, including an editorial in the Wall Street Journal. They also came in written tributes at this website, handwritten letters and in personal comments shared with friends and family at the various events celebrating his life.
Rich's Legacy